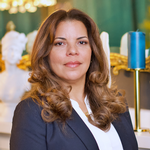 401-477-4282
ingrid@401sold.com
6454 Post Road
North Kingstown RI, 02852
Receive Email Alerts from Me
Ingrid Fisher
As a legal assistant for high-profile attorneys coupled with the responsibility of overseeing privately owned investment properties, Ingrid understands the nuances of working with high-level professionals and the importance of confidentiality.  Though professionalism is a key feature of her relationship with others, she believes true successful relationships come by communication and trust.  As a Realtor, Ingrid is committed to ensuring all clients are treated with care, respect and professionalism.  
In her free time, she enjoys shopping, outdoor dining and transforming spaces into beautiful and enjoyable areas without breaking the bank.  Viewing real estate as both a career and a creative outlet, Ingrid's energy and enthusiasm is sincere.  
Ingrid resides in Providence with her husband and 2 dogs. She is a member of Faith Christian Center in Seekonk, MA and proudly supports Food For Hungry by sponsoring a child in the Republic of Burundi.  
Ingrid Fisher 's Listings
2
Beds
1
Baths
1,184
SqFt
3
Beds
1
Baths
1,078
SqFt